About Wallpaper Hangers Direct
With over 20 years experience we have built up a reputation as a professional and reliable team of expert wallpaper hangers.
Working closely with each and every client we ensure that their vision is reached every time from design to finish. No client is too big or too small, we treat every client with the same high quality they have come to expect.
As specialists with highend wallpaper our team have the experience needed to ensure your product is handled with care and each job is finished to the highest standard.
Visit our portfolio for examples of our wallpaper hanging.
---
You can be confident your job is finished to the highest standard
---
Our Expert Wallpaper Hanging Team
- Alan Azuga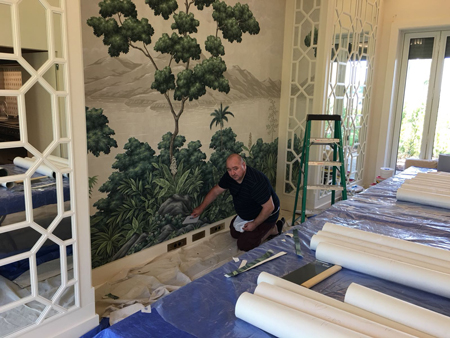 My name is Alan Azuga and my journey as a decorator began in 1996 where I started my apprenticeship with Chelsea Construction as a Painter and Decorator.
During my time working with Chelsea Construction, I had the privilege to meet and work for some of the top interior designers in London, including Emily Todhunter and Nicky Haslam.
I completed my City & Guild qualification in 2003 (College of North West London).
After leaving Chelsea Construction, I worked for several decorating companies and interior designers across London, where I developed and enhanced my skills further.
Some of this work included specialist jobs hanging delicate and exquisite wallpaper in some well known places such as Duke's restaurant, Soseki and The Goring Hotel.
The ceilings at Soseki restaurant are papered with the book covers of eponymous author and famously grouchy temporary Clapham dweller Natsume Soseki. This was featured in the Metro, July 2008: Click Here To Read
From 2009 I started to work for my own, and over the years I have built up my reputation and portfolio of high end clients and top interior designers across London.
---
I take great pride in my work and it is important to me that my clients are happy every time
---